Los Angeles Walking Tours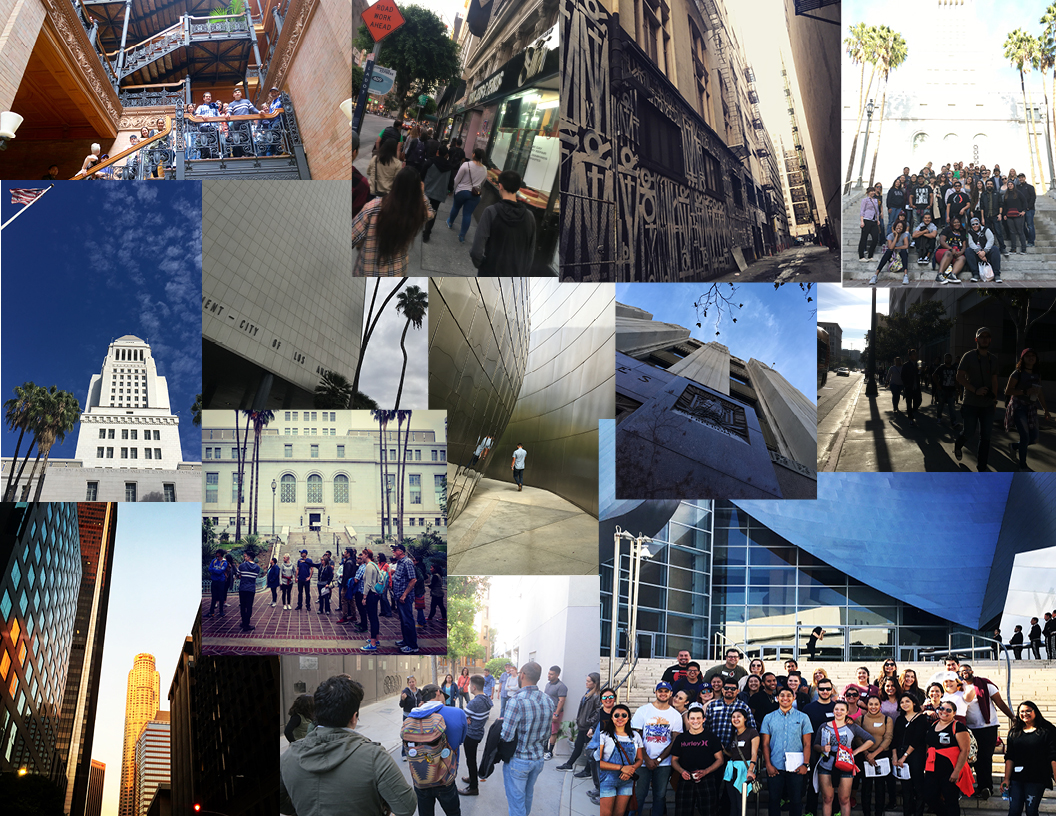 Summer and Fall 2020 Walking Tours

Dates will be anounced as COVID-19 restrictions are lifted in LA County.
We hope to be able to facilitate small, safe walks following the most recent county and CDC guidelines by July!
Join our email list to get updates on upocming walks, or follow us on Instagram

Meeting Place
Union Station
800 N Alameda St, Los Angeles, CA 90012
Please note that the meeting spot is subject to change - RSVP to stay updated!
About the Walking Tours
Inspired by the tours previously lead by Dr. Mike Steiner of the CSUF American Studies department, and the book A People's Guide to Los Angeles, the Los Angeles walking tours are designed to provide a link between local history, community, and the ways that urban spaces transform when explored by foot. Tour organizer Brande Jackson teaches in the American Studies departments of both CSUF and CSULB, and also serves as the program director of Living Histories, a non-profit organization devoted to community and creativity. She set out to 'revive' the walking tour tradition of CSUF AMST in early 2016 as part of her 'California Cultures' class, and has since expanded it into a larger community project. Each walk brings together a mixture of high school and college students with community members, who, as a group, explore the place they collectively call home. The walks emphasize the often overlooked and untold stories that shaped the unique history of Los Angeles, and some tours also emphasize "the city as creative inspiration" via street photography and writing. A key element of the tours, though, is simply helping people see 'their city' in new ways; many participants of the tours comment on how 'they had always meant to go...' to the various stops on the tour, and are suprised by the depth and history that such a small part of a large city has to offer. The tours happen as part of a larger project coordinated by Living Histories: "Telling the Stories of Where We Are From." Living Histories is currently seeking funding to expand this program, a mixture of Los Angeles history with individual memoir of residents, to a diverse range of communities in the city.
Parking
Option #1: If it makes sense for you, take the Metro! Union Station is the main transportation hub, so many lines, both Metro and Amtrak, stop there. Cheap and easy - no parking at all! Just take the train to Union Station, walk out to the main entrance on Alameda, and find us! Option #2: If driving, it is suggested that you park at the Lincoln/ Cypress Metro station, two stops north of Union Station, where parking is FREE and ABUNDANT and EASY. Purchase a Metro tap card/pass ($1.75 each way) and take the Metro south to Union Station.
Lincoln/Cypress station address: 370 W Avenue 26, Los Angeles 90031 Option #3: If you want to park near Union Station, the website below provides a good list of what is available in the area, just know that there is really no free or street parking anywhere nearby, and it will probably cost between $8 and $20 to park for the duration of the tour. Union Station has a flat parking rate for the day of $8.
More info on parking options at Union station here and here.
Itinerary
We will be meeting outside, on the left side of Union Station (if looking at the building from Alameda), and will be there doing intros, and checking out the building, until about 20 minutes past our meet time. From Union Station, we will walk through Chinatown, Olvera Street, Downtown LA and end in Little Tokyo. If you need to drop out early, at any point, you can go back to any Gold or Red Line station and take the train back to your car.
A more detailed itinerary will be emailed to those that RSVP.
Cost
The walking tour is free to students!
For non-students, there is a suggested donation of $20 to Living Histories, if you can, but only if you can (and no worries at all if you can't!).
There are a few minimal costs to take into consideration: each trip on the Metro will cost $1.75, and we will make a few stops for optional food and drink. Parking should be free if you park at the Cypress/Lincoln station.
If you opt to park at Union Station, budget for up to $15 for parking.
How Much Walkin' Are We Talkin'?
You will indeed get your workout - smart watches and trackers will be buzzing! Last semester, we tracked a good 4-5 miles, so wear comfy shoes! That said, we move at a moderate pace, with lots of stops, and breaks for food and drink.
RSVP
Questions? Email!
Follow our Facebook and Instagram pages for updates!
Check out our past tours!